Nucula Update
Over the past weekend an update was added to Nucula that will impact the way officials might interact with the system.  These changes are intended to help with end of the year certification and the reliability of the data that officials are entering.  Below you will find some of the changes that were introduced.  We apologize for not getting this information out before the changes have occurred and we will take measures so that officials are better informed prior to changes taking effect.
Manual Work Records (New MWR) Form 
Chief/Referee/Instructor Field
Prior to the change, officials were required to rite the name of the Chief, Referee, or Supervisor they were working under at an event. We have made that field a "Drop-down box" (see below).  Officials will now choose from any official listed in the system.  There is still an option for "Unknown" which will appear at the top of the list for those who do not know this information.  
On most systems, you can begin to write the name in the field and it will jump to that part of the list. This functionality is not available in all browsers so unfortunately some will need to scroll through many records to locate the names further down the alphabet.
Other Field Changes
Prior to the update the event type field (green arrow) and the rover days, line days and chair counts (red Arrows) were pre-populated.  This has caused issues with errors in the past since the default value was often not changed upon submission.  Now all officials must fill in each of these fields in order to successfully submit. The hope is that the extra time used to input this information would reduce the more laborious task of correcting them after the fact.
Search Button Moved up 
The search button previously at the bottom left has been moved to right below the main menu on the upper left.  This change should allow for officials to get to the button without the need to scroll.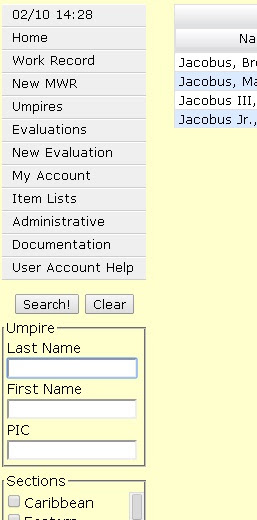 Recertification Button and Confirmation
We have moved the recertification request  button to a more visible place at the top of the certification listing (green arrow).  It should be easier to find for most and also easier to determine that it was toggled (red arrow)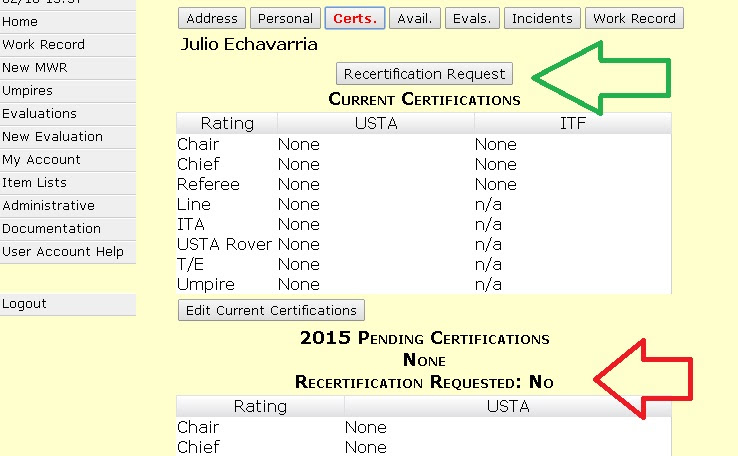 Have ideas how to improve the system?
You can submit them to officiating@usta.com